Introduction of
Computer Science & Engineering
Just as the IT industry based on the Internet and computer technology led the information age, in the coming era of the 4th industrial revolution, the computer technology-based convergence industry will bring changes in the world beyond imagination. The Computer Science & Engineering major provides computer engineering skills required in the era of the 4th industrial revolution. Through a curriculum centered on digital hardware and software development, students can learn computer core technologies that include both hardware and software. As a specialized course, we operate multimedia processing, network and system, computer graphics, and game programming, which are future core technologies. The educational goal is to train computer system development experts through specialized education centered on future core technologies.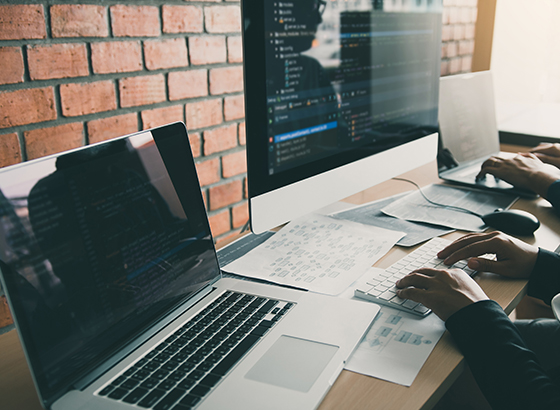 Introduction of
Software Engineering
Software is the essence of the new era when human beings and things exchange information with others. Smartphones, the Internet, and the Web have become an important part of human life. Software is the key to opening up a creative space that changes the world. In the software development field, understanding of human being becomes more important. SungKongHoe University with abundant Humanities characteristics offers software development skills for human-centered software professionals. This education would be a new stepping stone for your dream. Because the software industry keeps continuously evolving, new talents to adapt and lead new technologies are necessary. Software Engineering Studies has an educational goal to nurture software development professionals with a continuous self-development ability. We educate students to have an excellent problem-solving ability based on comprehensive thinking power and creativity and to have the latest technology application capabilities needed in the IT industry.
Introduction of
Computer & Communications
Both computer and communication technologies are covered together in Computer & Communication program. Nowadays, 5G telecommunications, internet of things, information securities, big data, and AI become more important. They will continuously evolve in convergent forms and the related new technologies will emerge in the future. Our program helps students to be able to realize these technologies teaching computer hardware and software, wired and wireless communications, information securities, and their applications through theory and practice. The program focuses on the research and education for the development and application of technologies which can play leading roles in the information society. The final goal of Computer & Communication program is to cultivate people of talent to make great contributions in the related industries.
Introduction of
Artificial Intelligence
Artificial Intelligence major is newly offered in 2022 with an educational goal to nurture creative and convergent AI specialists through research and education that integrates AI technology into future industry and social problems. Young and excellent faculty members educate, based upon basic knowledge of mathematics in line with AI and data analysis, in-depth application such as machine learning, deep learning and computer vision, and run a project centered curriculum using artificial intelligence technology.