Sungkonghoe University Portal System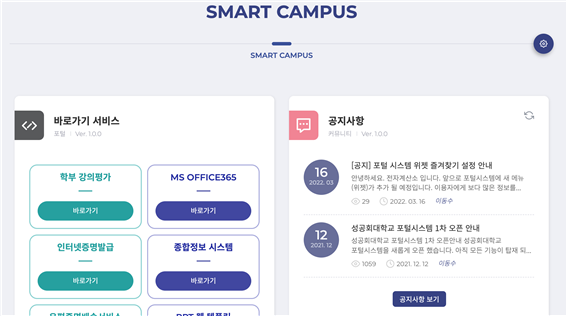 Sungkonghoe University's portal system is a site where you can check online information necessary for school lives, such as issuing a certificate of enrollment, issuance of transcripts, and checking grades. In this portal site, various school documents can be issued online here. It can be accessed through a PC or mobile site. When logging in for the first time, please change your password after logging in with your student ID number and password with the last digit of your temporary resident number.
Sungkonghoe University Portal System
Enrollment
The classes and syllabus for the semester can be checked through the general information system or through the notice of Sungkonghoe University. If your academic record is not entered or if you are unable to register for a course directly, you can get help from an exchange student assistant. Please check the school notice board for the course registration period and method for each semester.
Credit Recognition & Grades Information
You can check your grades and file an objection during the grade check period after the end of the semester. You can check your grades through the portal site login-comprehensive information system-intranet-grades-check your grades within the specified period. Please check the bulletin board of Sungkonghoe University for the semester grade check period.
LMS
LMS is an essential platform for students taking classes. After downloading [Hello lms] from the Play Store/App Store and logging in, you can check the information about the lecture you are currently taking, or even on PC. Here, you can check information about the overall lecture, such as taking online lectures, syllabus and class information, the professor's e-mail address, notes, and attendance, and you can receive various class notices that change in real time.
https://lms.skhu.ac.kr
Mobile Student ID
The mobile student ID is used to prove that you are a student at our school, and you can access the library with it.
After the registration information of international students is entered, mobile student IDs can be issued through the Sungkonghoe University portal system. Alternatively, you can create it by downloading 'Sungkonghoe University Library' from the App Store/Play Store and entering the 'Mobile User Card' category. ID and password are the same information used in Sungkonghoe University portal system.